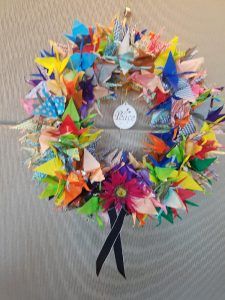 **We are currently collecting paper cranes for Lewiston, Maine. **
We know first- hand the impact that banners and words of encouragement sent to us in 2012 had on us. In the past, we have sent banners with signatures from our Community to others affected by the all too familiar mass tragedies that have taken place. Selecting Douwe and his Crane design for "Ascentiate" the permanent 7/20 memorial, has given us a new direction for giving back to others. Rather than sending banners, we will be sending wreaths made of origami cranes folded with good intention and containing words of peace and love. Love is ever lasting and ever abundant, so though some paper cranes may need to be used for wreaths, our goal is to continue to fold and collect origami cranes indefinitely to be a visual display of the amount of never-ending love and compassion that is abundant in this world.
The Aurora History Museum will always have origami instructions and supplies available, as well as future community crane folding sessions scheduled throughout the year. We also welcome you to fold cranes from your home or with another group that you are a part of by following the instructions below.
• Purchase a pack of origami paper (preferably around 6" x 6") at any Michael's , Hobby Lobby or online for under $10. The more colorful the paper and patterns the better!
• Write your positive thoughts, prayers, and words of encouragement on a wing or on the white part of the paper before you fold it if you prefer.
• Instructions for folding a crane will be in the pack, or learn how to fold a crane here.
• To be a part of this project, all you need is origami paper and an open heart.
We collected cranes from representatives of 47 different countries that are in our community. Each crane had the word "Love" written in their native language. Click on "Global Cranes" to see the pictures of the beautiful people who believe in peace, hope and love.
We are collecting cranes in 3 ways:
Via mail:
7-20 Memorial Foundation
15151 E. Alameda Pkwy
Aurora, CO 80012
Via the Aurora History Museum:
Drop cranes off or make one at the crane station by making a reservation at auroramuseum.org
Via social media:
Write a comment on our Facebook, twitter or Instagram page and we will put it on a crane for you to add to the wreath.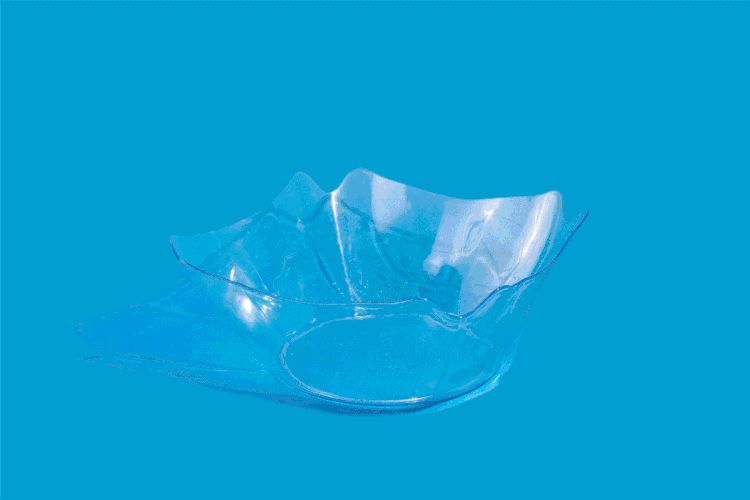 Browse through the gallery below to see the wreaths filled with paper cranes collected from our community during city events such as global fest where over 47 different countries are represented, proving that love is universal. There are also cranes collected from children who attended City of Aurora summer in the city events, children are pure of heart and the love and light they put into folding them is powerful. Folding these cranes and assembling these wreaths is a very healing experience for all, and they are presented in hopes that the healing will continue.
We were thrilled to connect with caring people who sent us the 1000 cranes pictured here after our tragedy in 2012. It was their cranes that inspired our artist Douwe Blumberg when he created "Ascentiate". Cyndi Williams, mother of Nate Williams, saw our 2018 facebook post and wrote: "The kiddo who inspired our community was my son Nate Williams who was just 15 at the time. In 5 days I watched around 100 community members come together to show love to total strangers they had never met. Most of them were just kids his age and younger and some of their parents. It was such a healing time for our community as we mourned for yours and it means so much (SO many chills and tears shed) to know that his simple devastated heart that day turned to action that is still making a difference 6 years later." The display of 1000 paper cranes from O'Fallon became part of a permanent display in the Aurora History Museum in October of 2018.
The Williams were honored to share these pictures from 2012 of their community in O'Fallon Missouri sharing their hearts on cranes to send to us!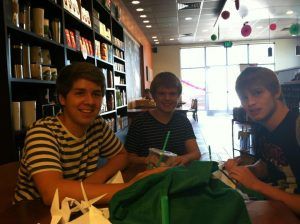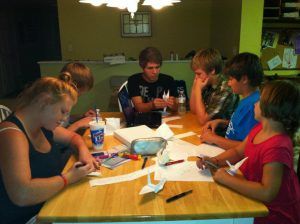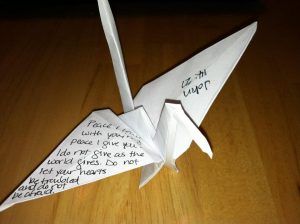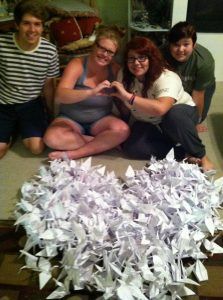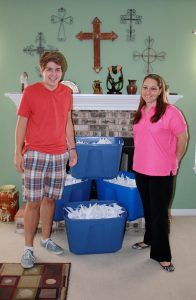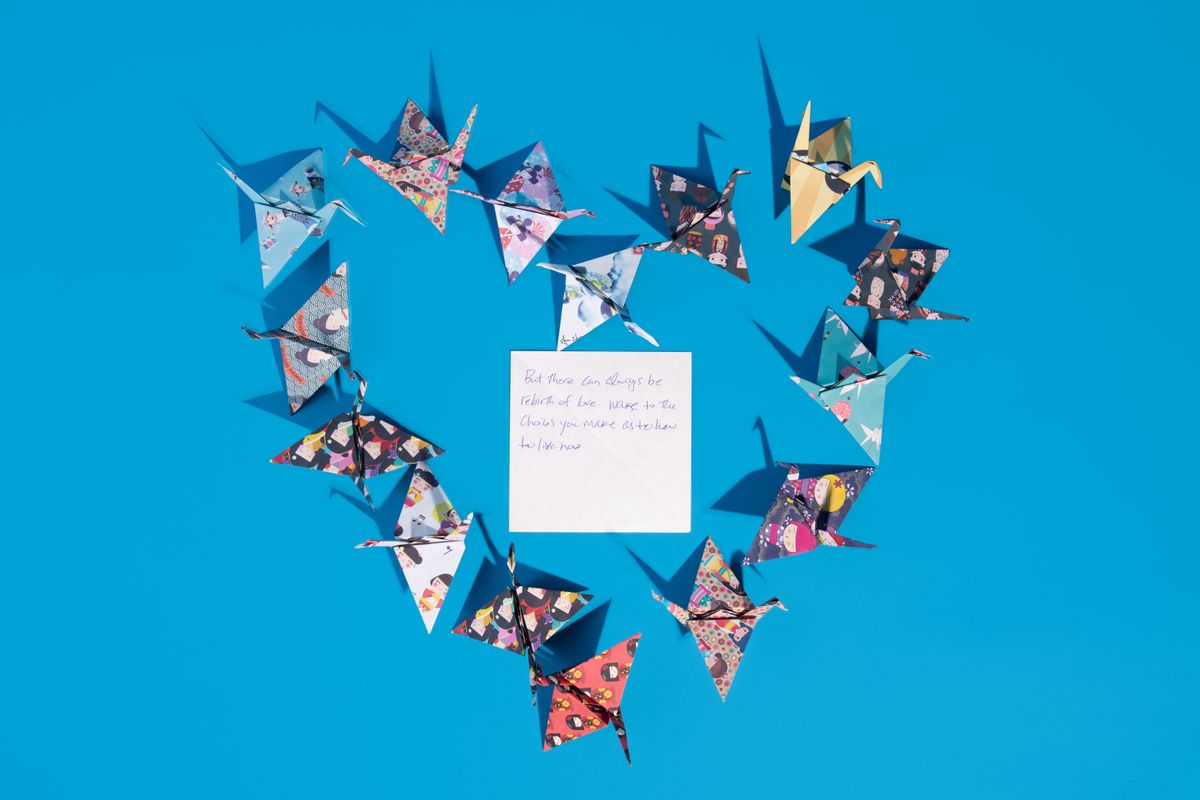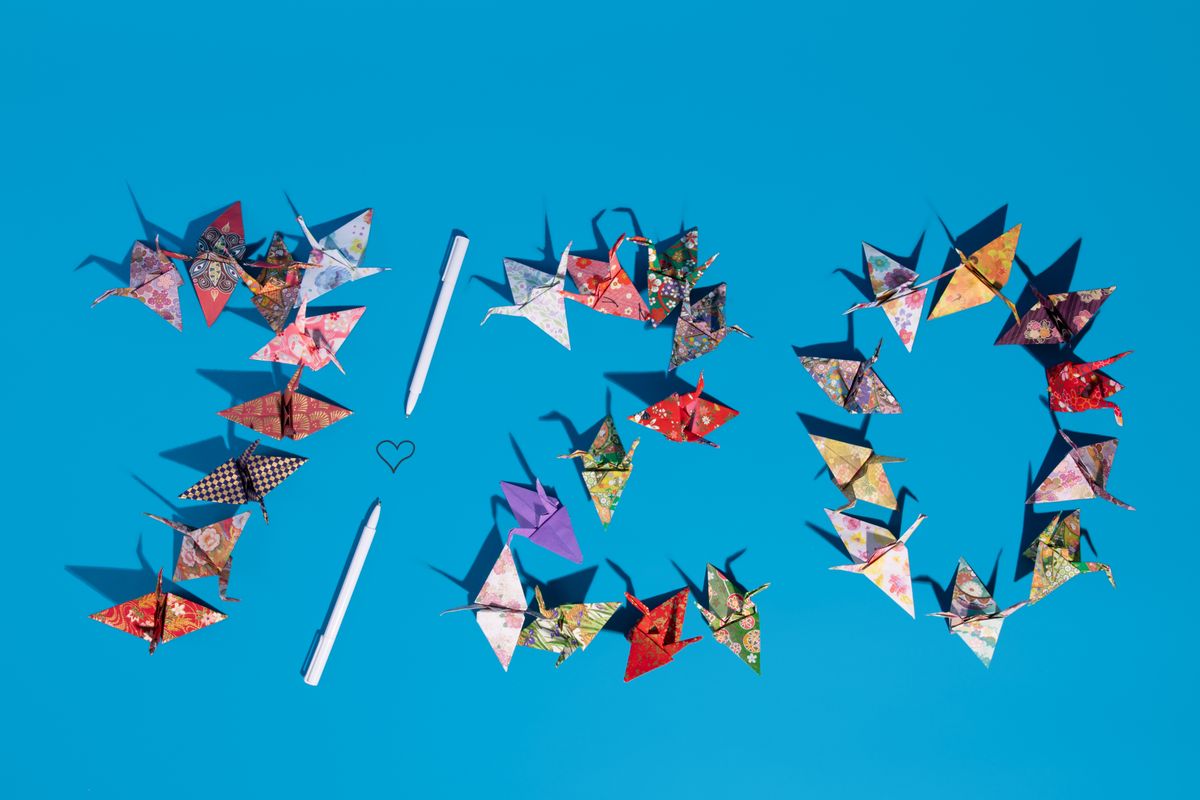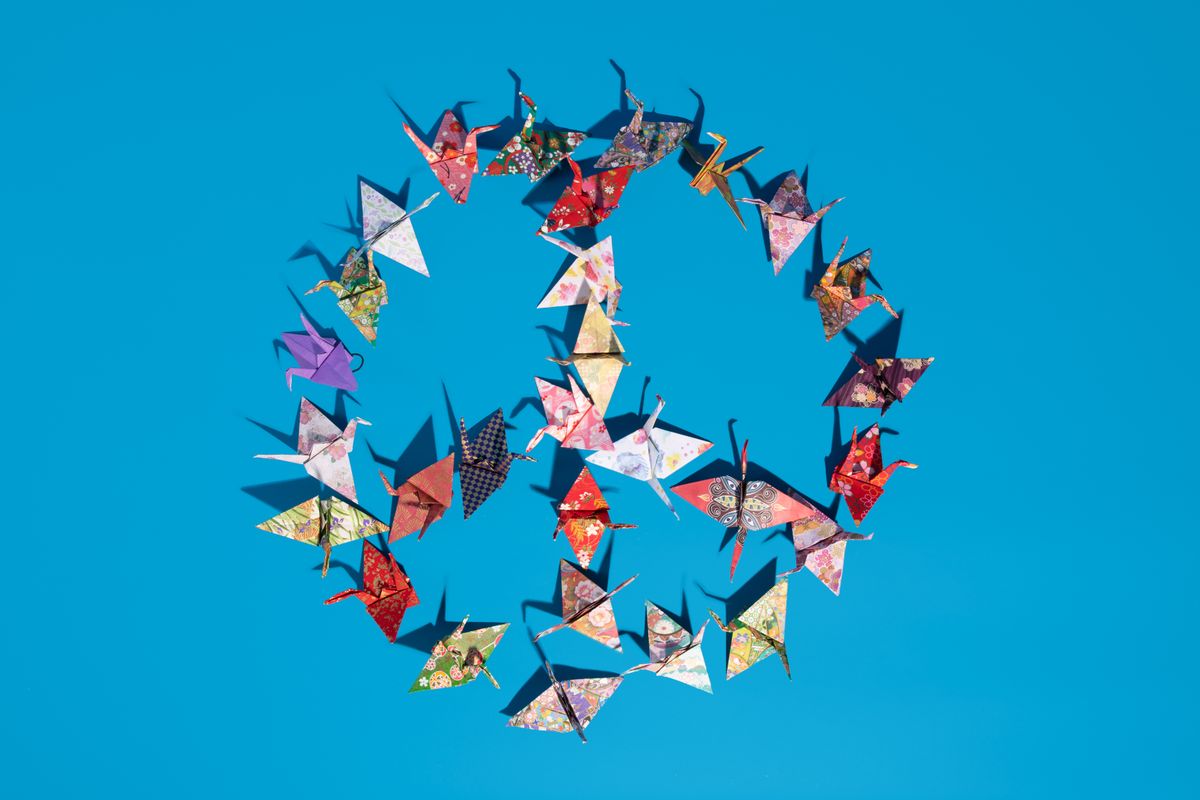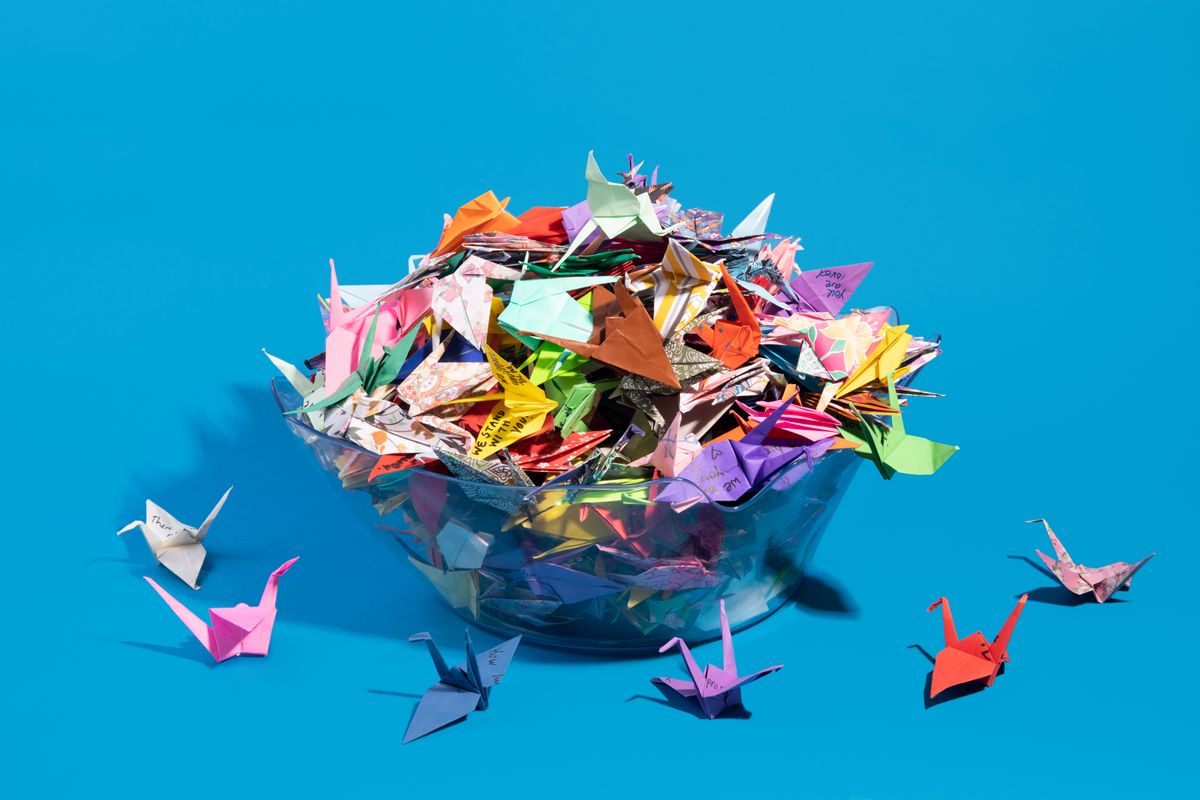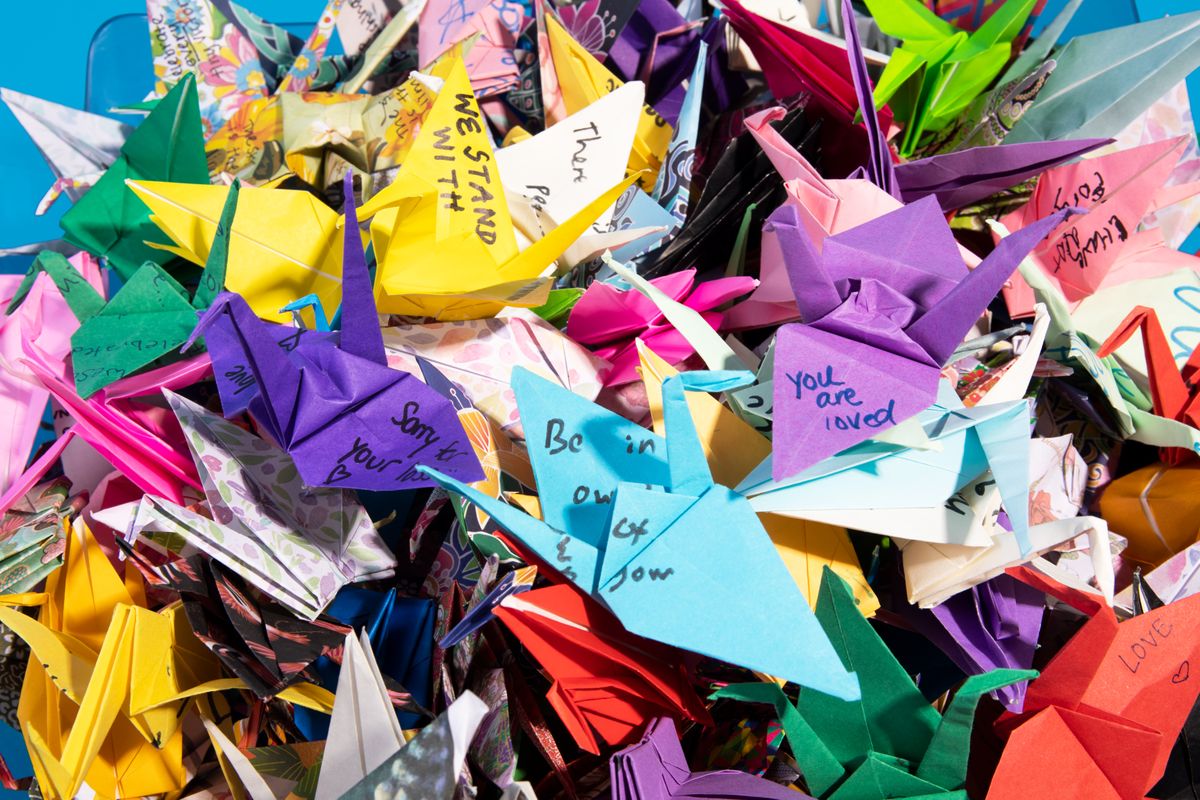 After sending a banner to Las Vegas in October of 2017, 5 more communities were devastated by mass violence. We were so grateful to the Aurora Strong Resilience Center for offering their help in folding and gathering cranes to make wreathes filled with hope and love. They organized a crane folding event on December 20th, 2017. The response was amazing and thousands of cranes were received enabling us to create the wreaths needed for healing. The Community came together once again in March to show support for Parkland. Aurora Channel 8's story explains in this video:
Memorial Wreaths
Hover over each picture to see which community received the wreath.