Metamorphosis
Aurora Theater: 10 Years Later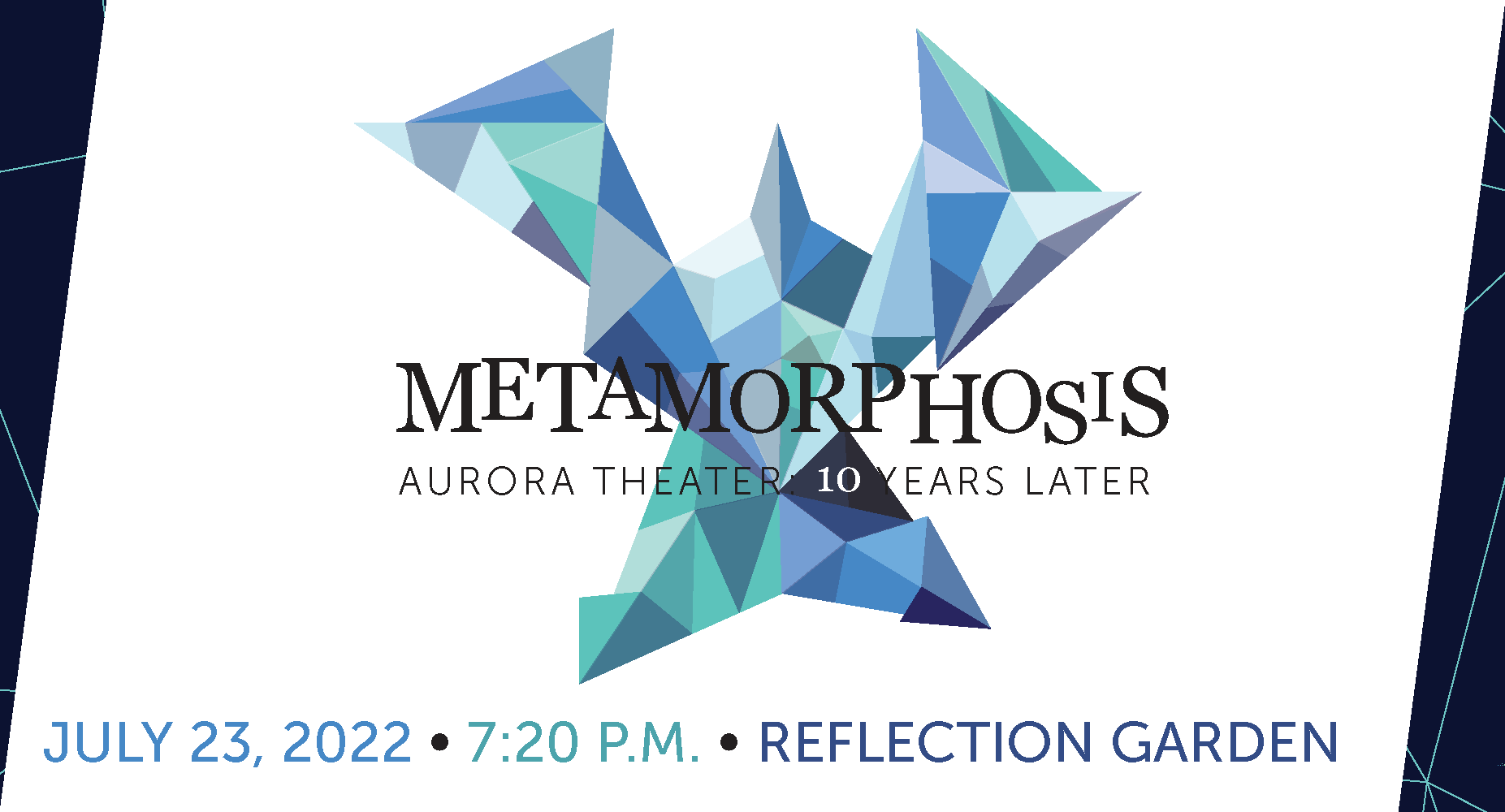 Events on July 23, 2022
Heroes Journey 5K
The Hero's Journey relates to any person who faces a challenge, encounters struggles to overcome it, and returns home a Hero. The 5K was a transformative experience as supporters participated in a run/walk together; whether you are a veteran runner or this is your first 5K. We chose to start the run across from the theater and end in the 7/20 Memorial in the Reflection Garden as your return home/finish line to honor the journey from tragedy to hope. It is the perfect place for each of us to honor and celebrate our collective accomplishment as well as our heroes from the 7-20-12 event. Over 13,000 was raised for the Zack Golditch opportunity scholarship. Zack is an Aurora, CO native who, though in the adjacent theater, was in wounded in the 2012 Aurora Theater Shooting. Zack spent parts of two seasons in the NFL before coming back to the Front Range. He now follows the path of those who came to his aid 10 years ago, with his career as a firefighter at South Metro Fire.
Reflection Ceremony- Aurora City Hall Great Lawn
https://vimeo.com/734089694/44c879ba7d
We wanted to acknowledge the continued healing journeys of survivors, first responders, and community leaders. A remembrance of the 13 taken, as well as stories of courage and hope, was shared through the voices of those who were affected. We hope to inspire all to remember that together we are stronger.
Following is the poem created by Assetou Xango that she shared at the remembrance:
I often wonder if butterflies ever miss the ground
When they emerge from the darkness
where everything they've known
dissolves
Do they ever wish they could take it back?
There is a loneliness in the sky,
the people you knew,
Can no longer reach you.
A theatre can be a dark place
a forced cocoon
The metamorphosis
Is abrupt,
It comes before we are ready
a sudden call
a fear that confuses
a restful night
We find ourselves trying to catch our breath in a butterfly net
Taking deep breaths through netted lungs
Trying to put everything back
the way it was
What can be said to stop the phantom ringing
Do butterflies ever feel like that
Like they didn't get the chance to say goodbye?
And when they emerge
A resurrection
We can never again hold
Their wings don't fit our hands
In the moments after they change form
They remain close to the ground
we can still feel them here
like it did not happen
like we will see them tomorrow.
But as time passes
they learn their wings
no longer the novice butterfly,
but the masterful crane
Flying across continents
Painting the sky
An art form
on a boundless canvas.
Here in the dirt,
change can feel senseless
An opened wound where the connection was severed
we sow seams where flesh broke
discover the wisdom of the crane
build our own flock
support one another
hold the hurt
that has already
begun to transform
Of course, they miss the ground
But it is freedom
to know the sky.
Beer Garden
Our favorite local breweries and others from around the state poured unlimited samples for patrons 21 and older who donate to the foundation to receive a wristband. Breweries: Resolute, Baere, Bent Barley, Bierstadt Lagerhaus, Waldschänke Ciders + Coffee, Jagged Mountain, Peak View, 4-Noses, Lone Tree, Cerebral, Lady Justice, Chain Reaction, Boulevard, Two22, Dry Dock, A Bit Twisted, Six Capital, Spice Trade, Launch Pad, Living The Dream, Tivoli, ...and more to come!
Live Bands -Aurora City Hall Great Lawn
They are like family to us and were a returning crowd favorite -Brushfire was slated to perform. Some of the band fell ill and lead singer Joel Dusek saved the day as soloist A local favorite, and always from the heart- Latin Sol was energetic and brought the crowd to their feet-We love that they began their sets with a tribute to those who serve. They will had a special remembrance for the servicemen that were taken from our community on 7/20/2012.
Variety of wellness and community outreach booths. Check back soon for a list of partners
Live Chalk Art- Reflection Garden in Aurora's Water-Wise garden on the south east side of City Hall
A variety of local talent including our return favorites created sidewalk art with the theme "Metamorphosis". Check out pictures of the amazing art on our facebook page!
Live Immersive Orchestra 7:20 PM-Reflection Garden in Aurora's Water-Wise garden on the south east side of City Hall
The Stratus Chamber Orchestra and Life/Art Dance performed Metamorphosis: An immersive art experience in the memorial garden. With the aid of poetry by Assetou Xango, a live immersive orchestra, dance, video and visual art by DAVA students. We acknowledged tragedy and pain, love and compassion, community and healing.