We will be entering a wreath in the festival of wreaths to help support the Aurora History Museum Foundation. The foundation is near and dear to us, as they took so much time and care with the thousands of artifacts left at the makeshift memorial in 2012. They are still cataloging the items today! It was one of those artifacts, the 1000 paper cranes from O' Fallon Missouri, that inspired our memorial. Wreaths from Aurora businesses and the community will be put on display from November 6th to December 7th at the Aurora History Museum, Aurora, Colorado City Hall Municipal Center-2nd Floor Mezzanine, and the Stanley Marketplace — during which time people can bid through an online auction to take one of the wreaths home for the holidays! All wreaths can be viewed online at biddingowl.com/fowamf after November 6th, 2018. We are happy to announce that if you win the bid on our wreath, you will receive 2 tickets to our 2019 Reflection Garden on Tap beer fest!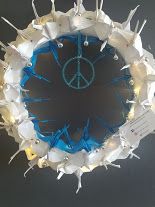 The 720 Memorial Foundation wishes you peace this holiday season. 13 blue paper cranes connect in the middle, representing our 13 angels watching over you. White paper cranes surround them representing the circle of community. 1000 paper cranes sent to Aurora in 2012 were the inspiration for the newly installed memorial to honor the lives lost, and the strength and resilience of the survivors, first responders and community. Paper crane wreaths are now sent to other communities who experience tragedy. May this wreath bring you peace, strength and love this holiday season by reminding you that there is more love in the world than hate.
Proceeds from the Festival of Wreaths go to the Aurora Museum Foundationto support exhibits and educational programs at the museum and Aurora historic sites. More than $30,000 has been raised from previous festivals.